GOT MILKING? (aka Prostate Massage)
ORGASMS that come with PROSTATE MILKING are reportedly more intense. Prostate milking, also known as prostate massage, feels great by stimulating the prostate gland via your arse-hole. This activity can be enjoyed by anyone with a prostate (sorry ladies), whether you're 18 or 85, whether alone or with a partner. Prostate play is a wonderful activity because an erection is not required. If you find maintaining erection to be a problem then milking will help. Additionally, this unique massage can rid build-ups of dead cells to help prevent certain prostate related conditions.
The main idea of milking is to drain the prostate gland of residual seminal fluids and return healthy oxygented blood. The prostate gland makes the fluid that carries sperm to it's nature and final intended destination. Prostate fluid's job is to protect precious semen as it rushes towards a female egg. This is the fluid drained out of your prostate when milking it.
Want to try MILKING?
Learning how to milk your prostate can possibly change your sex life for the better. Milking adds just enough variety to keep things interesting. It can take you to higher spiritual and physical planes. Any kind of good massage can be soothing to your soul, I know it is to mine. Orgasms that occur while milking provide a fantastic sense of emotional well being, calm and relaxation which helps to "take the edge off" and make life more satisfying.
Milking with a Friend
Prostate milking with a partner is an extremely intimate act. A great deal of surrender and trust is necessary in order to acheive the highest spiritual excitement and relaxation. All your muscles around the prostate will eventually ease their grip. This includes areas you didn't know you could hold stress and tension like deep gluteal muscles. You may begin to realize these muscles are tight and painful when a partner starts going in.
Instructional Video for Partner Prostate Milking on YouTube (click)
Once you let go you will see how prostate massage promotes an incredible release that is more profound than you might have had in the past without milking. A prostate orgasm will take you to a new level.


Prostate Massage Routine
Empty your bowels
Hot shower/bath to clean and to relax pelvic muscles
Trim and clean fingernails
Buy/Wear Nitrile or Latex gloves
Lie on your back or side with a towel under
Apply lubrication liberally on your fingers and the anus
Gently press your middle finger pad on the anus, so it relaxes and move finger in a circular motion...again...GENTLY
Prostate massage toys are best used after your finger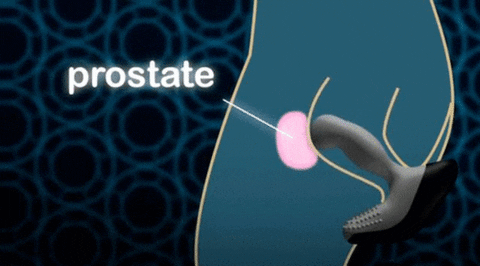 Now breathe deeply while your body tries to adjust. This may sound simple, but remain conscious of sustained deep breathing to get the ultimate benefit. Being very gentle is also important, especially if you have a prostate condition. Too much pressure can injure delicate internal structures so always be mindful of that. A gentle massage will increase blood flow and remove stagnant fluids.
Your penis will excrete some fluid during or after prostate massage. Let it go. Don't worry about it. Some will expel quite a good amount of prostate juice without erection or orgasm. This is healthy. Let this happen. This is what prostate milking is all about.
​CAUTION:

Be aware that in some cases prostate milking is NOT recommended and can cause harm – this is true for cases of acute or severe prostatitis or if you have been already diagnosed with or are under increased risk of developing prostate cancer.